There are few places in the world filled with as much excitement as the town of Aguas Calientes. The name of this unique place means 'Hot Waters' in Spanish and is also known as Machu Picchu Pueblo or Machu Picchu Town.
Despite the town's own unique charm and merit, the vast majority of visitors come to Aguas Calientes for one reason: to visit the incredible Inca citadel of Machu Picchu. But, what is there to do in Aguas Calientes besides visiting Machu Picchu? Here are some of the less-known but deserving attractions worth your consideration to make the most of your visit:
VISIT THE MACHU PICCHU PUEBLO MARKET
You can't miss the open-air Machu Picchu market as you have to walk right through it to leave the train station when you arrive in Machu Picchu town. The colourful market has vibrant stalls selling every kind of Peru and Machu Picchu related souvenirs and trinkets.
The market is open daily from 9:00am until 4:30pm. Make sure you take the chance to lose yourself in the labyrinth of stalls during your stay!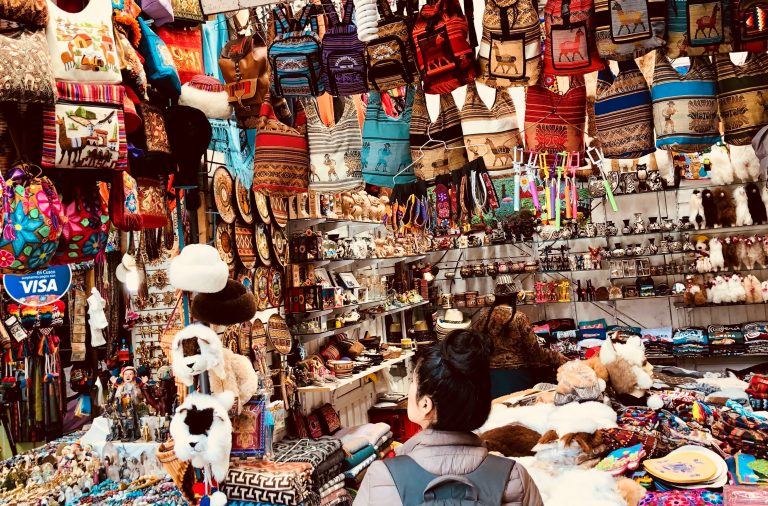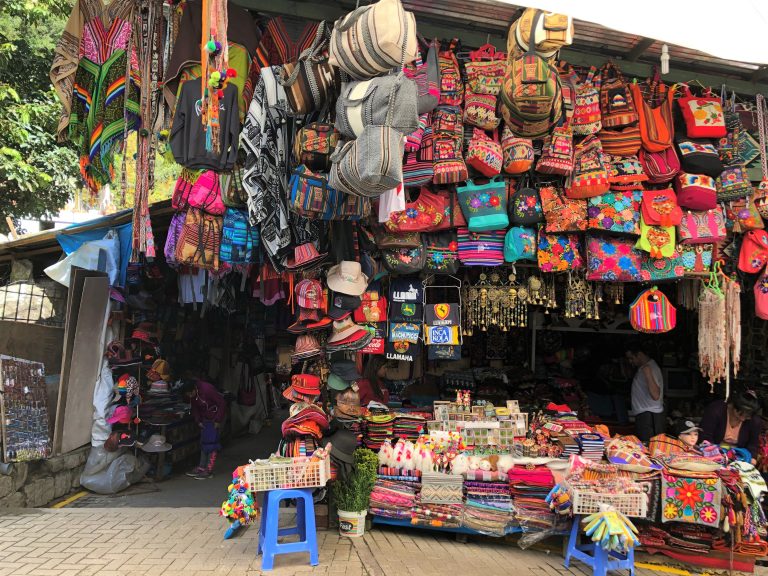 VISIT THE AGUAS CALIENTES HOT SPRINGS 
It's no surprise that a town called Aguas Calientes would have actual Aguas calientes (hot springs). They are located right at the top of the town and are a great way to relax after all that walking! The temperatures of the water can be between 38 and 46 degrees. They open from 6:00 am till 8:00 pm and entry costs 5 soles for Peruvians and 10 soles for non-Peruvians.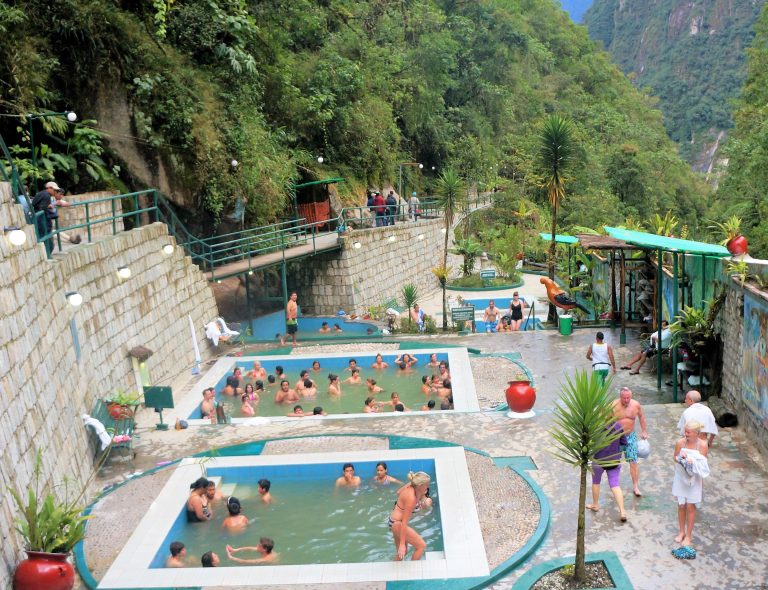 VISIT THE MARIPOSARIO OF MACHU PICCHU
The Mariposario was created in order to breed butterflies at risk of extinction and to give visitors an insight into their life cycle. It is a private project which has been running for approximately 12 years and is solely supported by visitors' donations. It is beautifully maintained and offers visitors a lovely nature walk. The entrance fee is 10 soles and it's located 1.2 km  walking  from Aguas Calientes.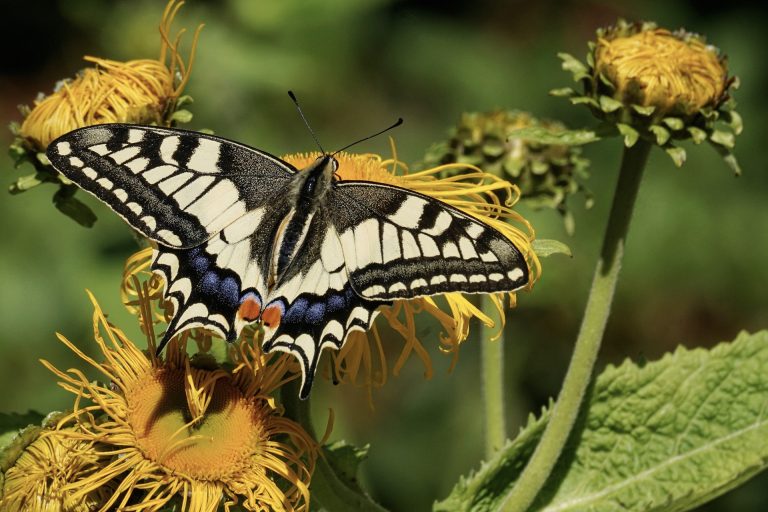 Putucusi is the mountain that stands alone to the east of Machu Picchu. Once at the summit, you can see breath-taking and completely different views of the citadel, Aguas Calientes and its surroundings.  Unlike other hikes around this area, this one is completely free of charge and relatively unknown. Very few people climb Putucusi each day, essentially giving you the freedom of the mountain!
The trail starts on the outskirts of Aguas Calientes and takes approximately 1.5 hours from Aguas Calientes to the summit. There used to be terrifyingly tall wooden ladders to help you to the top, but they have since been removed and are yet to be replaced.
It is important to mention that this hike is extremely challenging and potentially dangerous. As a result, only experienced climbers with the proper equipment should attempt the ascent. Don't try it unless you are an experienced rock climber!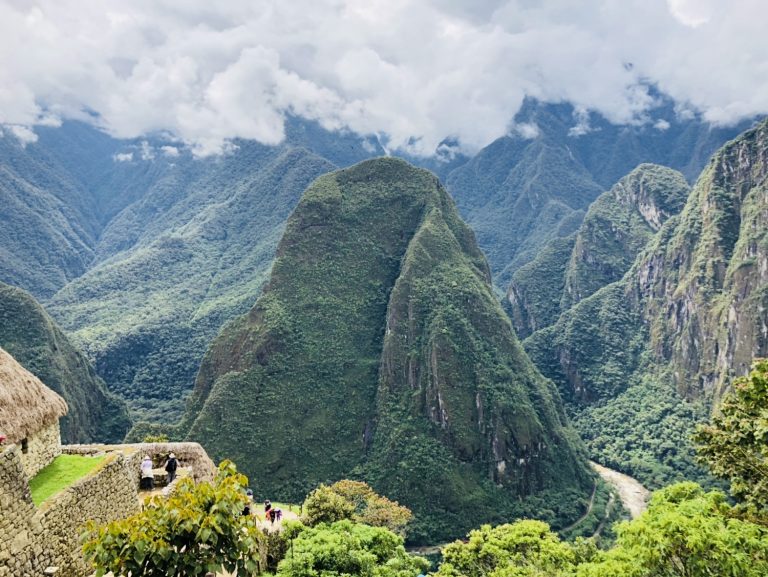 LOS JARDINES DE MANDOR – THE MANDOR GARDENS
The Mandor Gardens were created as a family environmental protection initiative, located only 4 km from Machu Picchu Pueblo along a beautiful hour and a half hike each way. The botanical gardens are surrounded by stunning scenery which is home to hundreds of colourful birds, butterflies, plants, and two waterfalls and pools which you can wade into! Entry costs 10 soles per person.
You can learn more about the gardens here.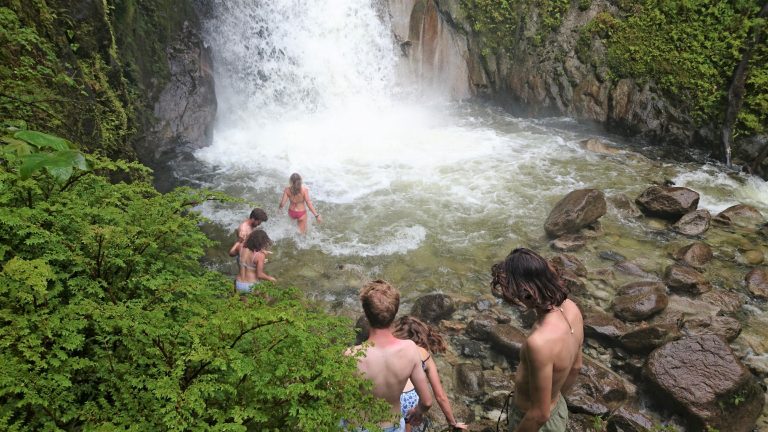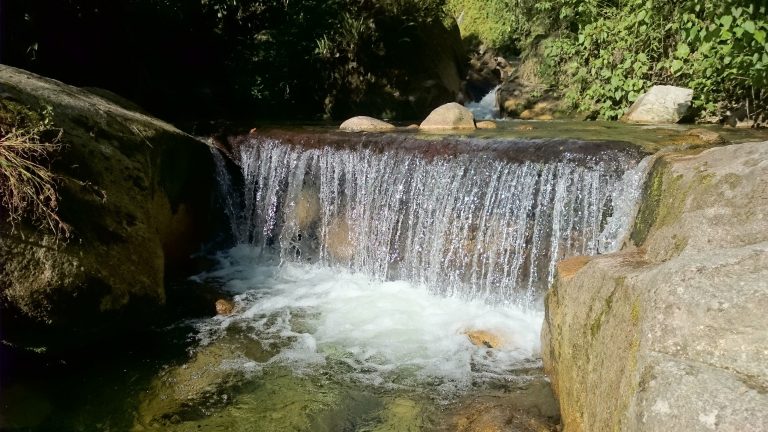 VISIT MANUEL CHAVEZ BALLON MUSEUM
This newly built museum is located by  'Puente Ruinas' at the base of the footpath to the Citadel of Machu Picchu, which is approximately 1.7 kilometres from Aguas Calientes. The museum displays a range of historical artefacts found at Machu Picchu after its rediscovery, some as recently as 2004, as well as explanations of Inca building methods (in English and Spanish). You can make a stop here before or after your visit to Machu Picchu. It costs 20 soles for non-Peruvians and 10 soles for Nationals.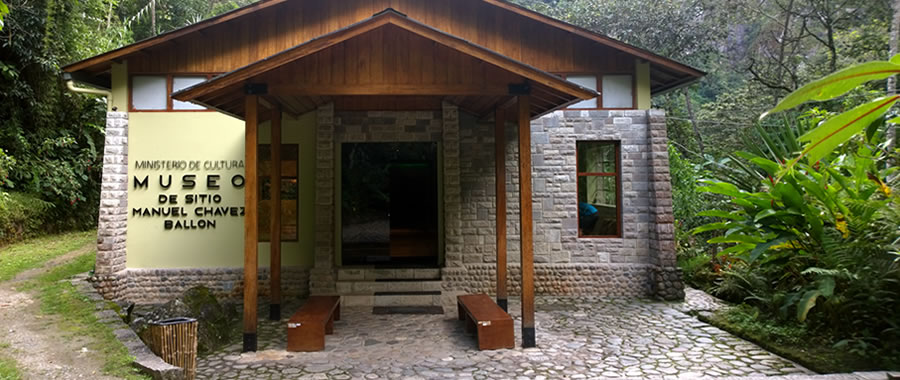 WHERE TO STAY IN AGUAS CALIENTES?
The Peruvian hotel chain Casa Andina, has a modern hotel perfectly located just a few metres from Aguas Calientes' train station. In fact, sometimes you can see the trains arriving as you step out of the hotel. It is walking distance from the market, the town's restaurants, hot springs and everything else of interest. It couldn't have a better location!
Can you see the train outside the hotel in this picture of the hotel's lobby?
Some hotel rooms have a truly amazing view of the Vilcanota river!
They serve a delicious buffet breakfast as early as 5:00 am if you want to visit Machu Picchu very early or if you need to catch an early train. You can also enjoy the view of the Vilcanota river over breakfast.
This is the perfect place to relax before visiting Machu Picchu or to rest after exploring it.
Learn more about Casa Andina Machu Picchu here.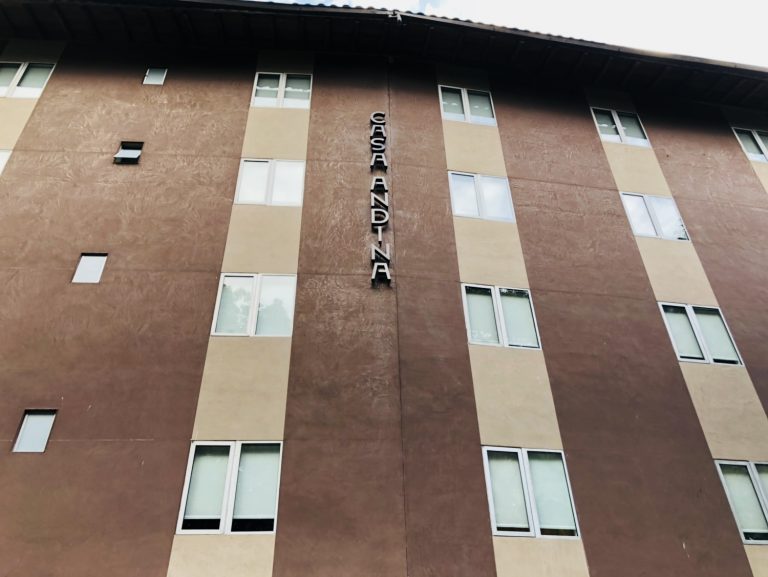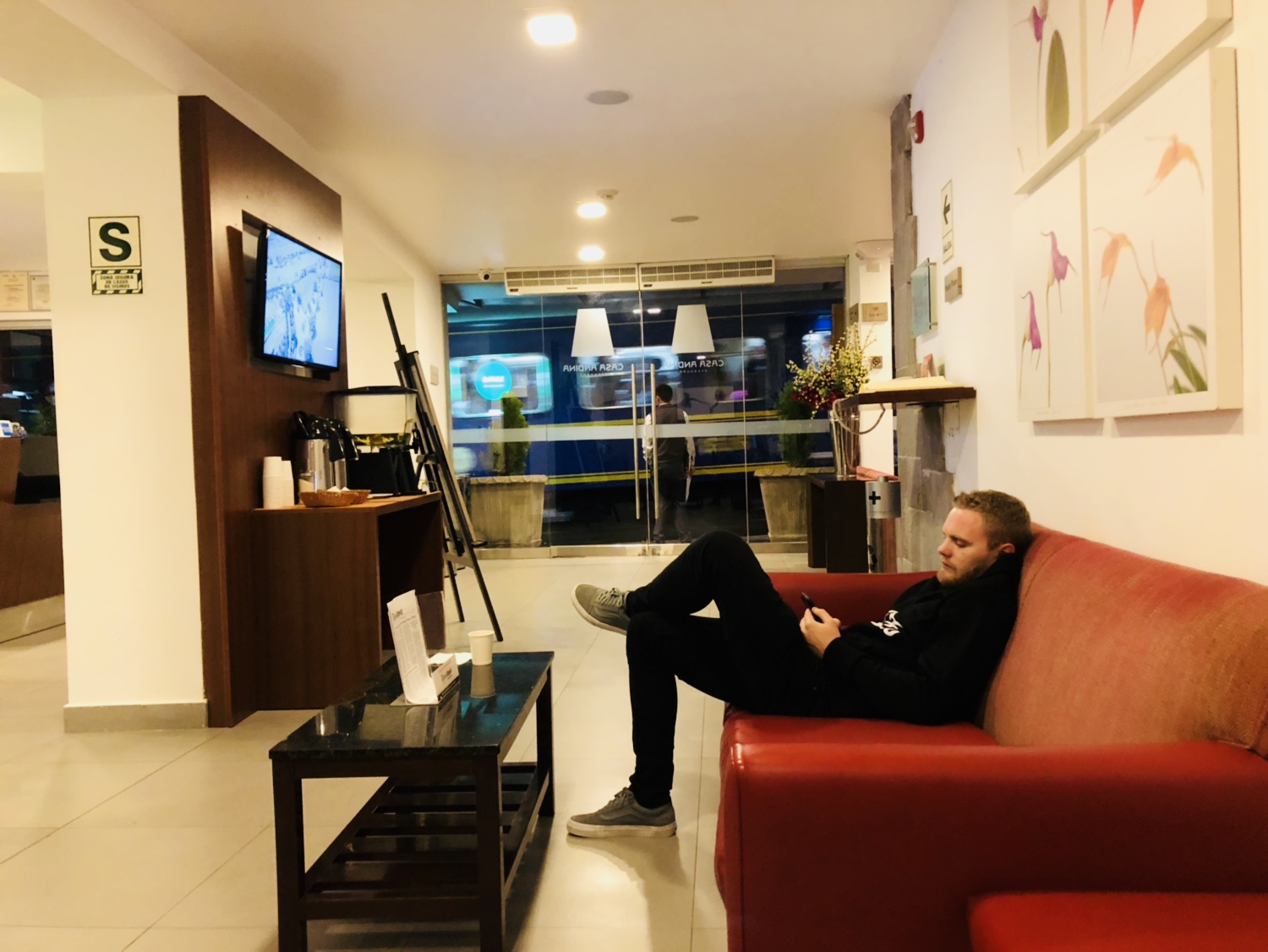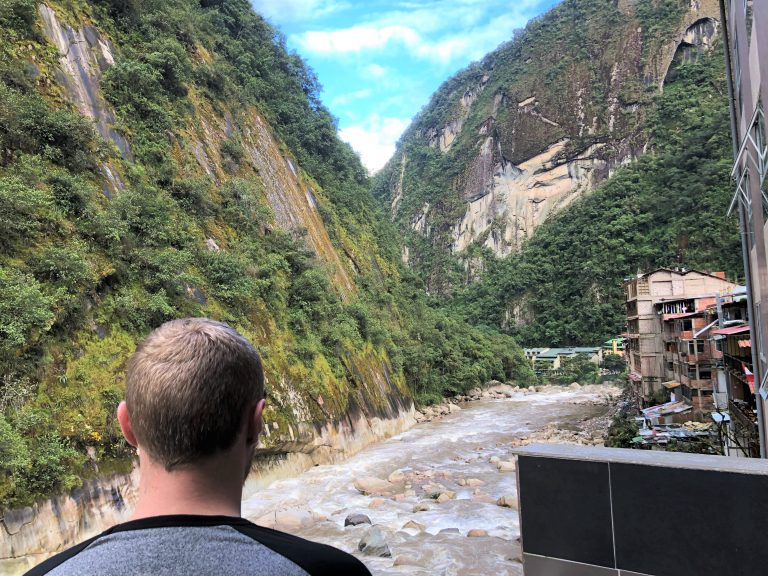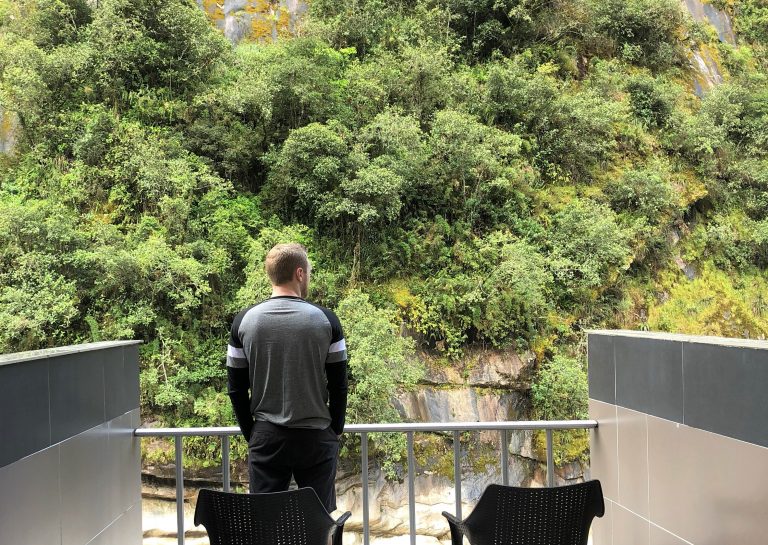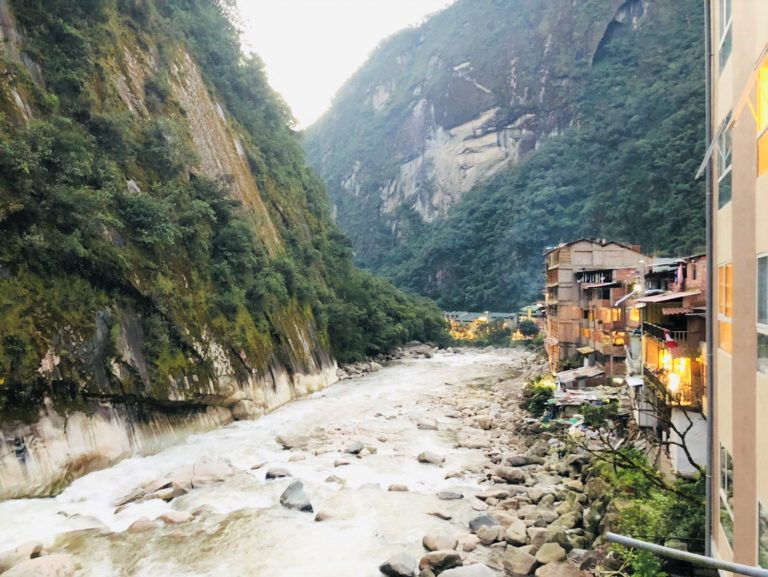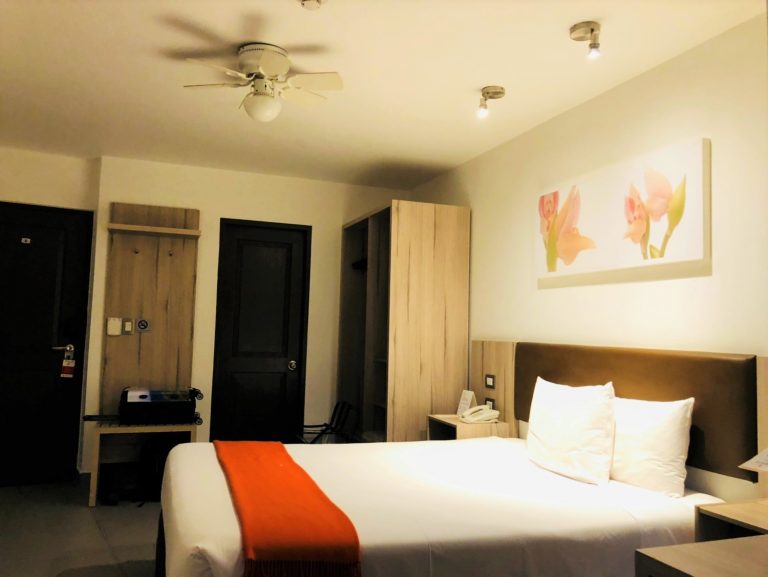 WHERE TO EAT IN MACHU PICCHU PUEBLO?
CAFÉ INKATERRA
Café Inkaterra is located in the outskirts of Aguas Calientes. It is the first thing you see as the train arrives to the town. The location couldn't be better as you can literally see and hear the trains pass by from the huge glass windows on one side of the restaurant, and on the other have a stunning view of the Vilcanota river and towering mountains while you eat.
The restaurant blends in really well with the surroundings of Aguas Calientes. Certainly, the most charming building in the whole town
Café Inkaterra is part of the luxury Inkaterra Machu Picchu hotel. It serves great Peruvian and fusion food in the menu. Open daily to the public for lunch (12:30 – 4:00 pm) and dinner (6:00 – 10:00 pm).
Overall: Excellent food, friendly staff, unique location and great surroundings.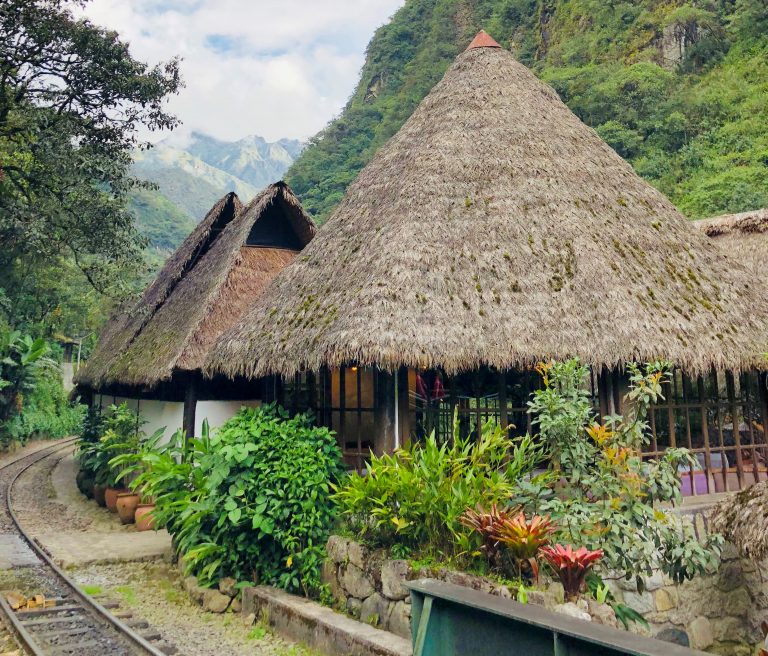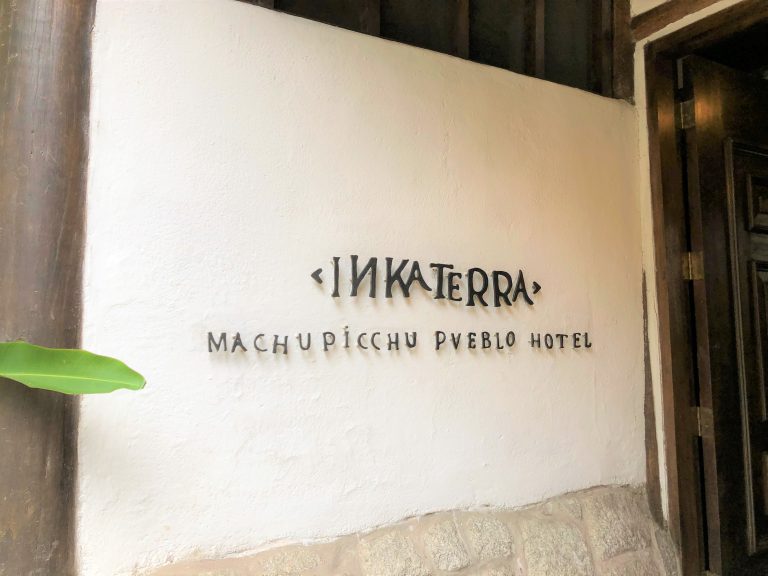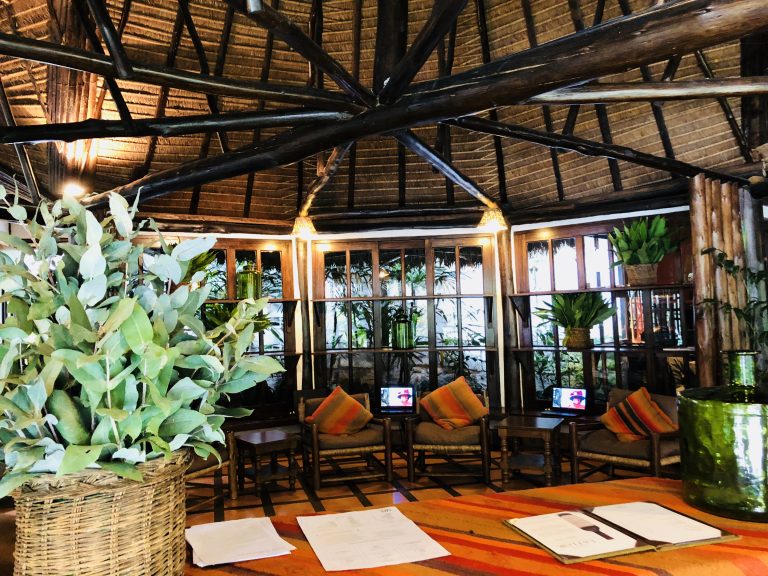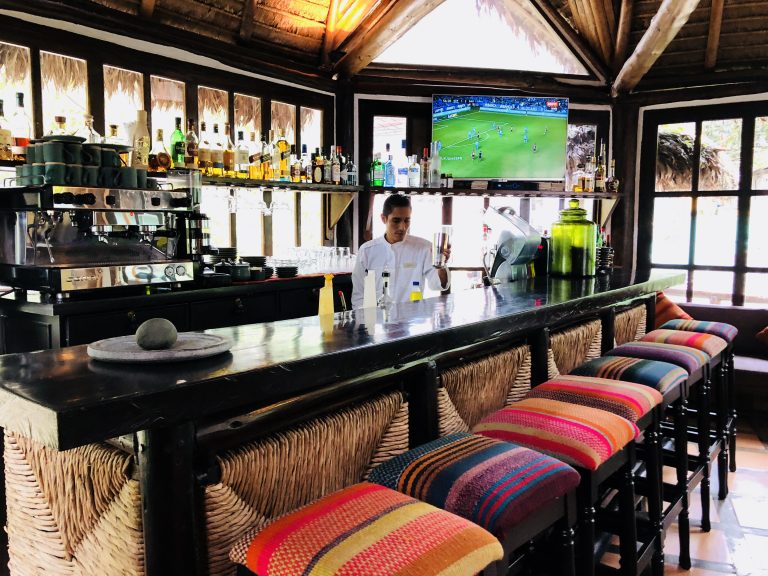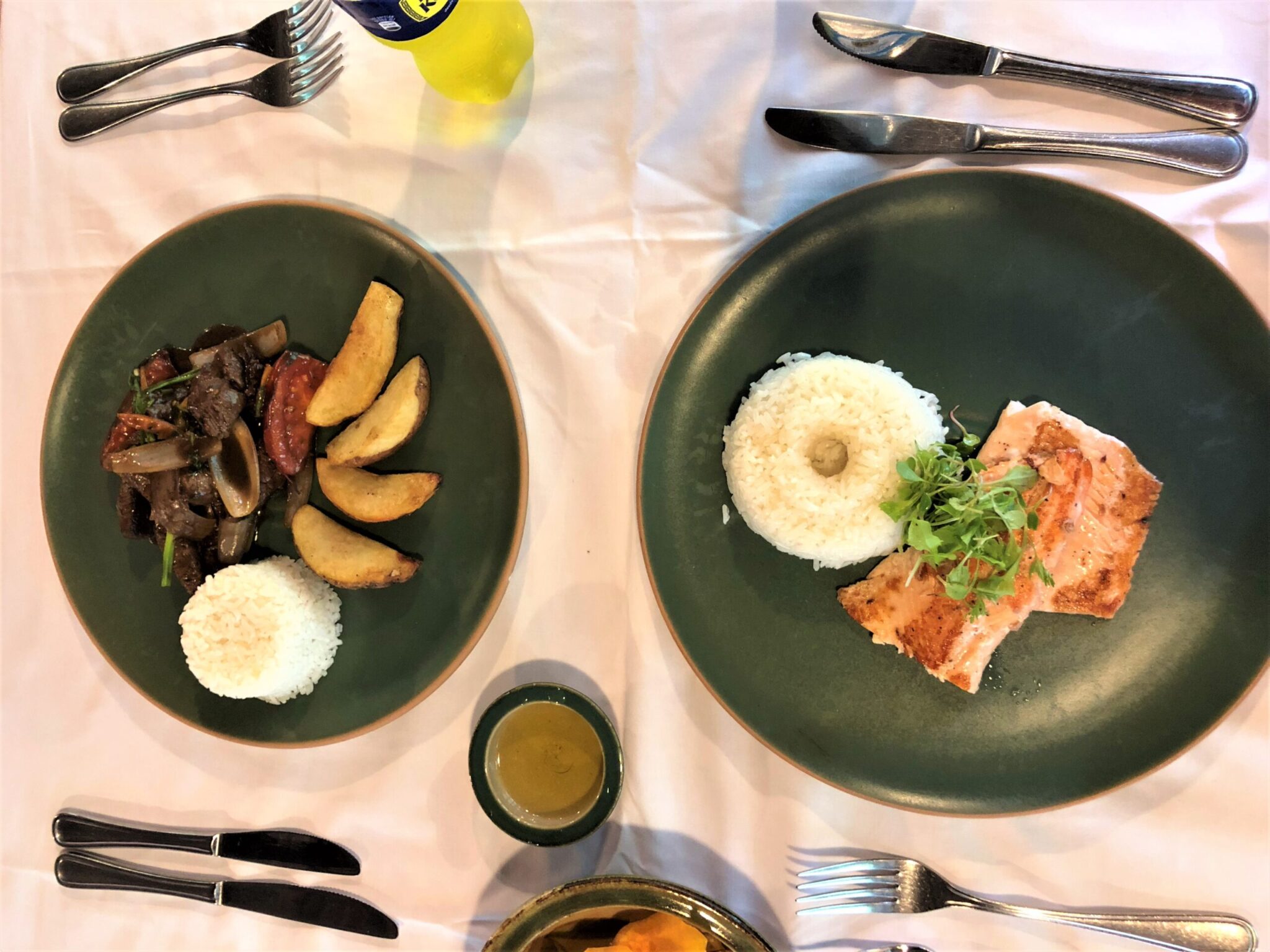 Learn more about Café Inkaterra here.
MAPI RESTAURANT
Mapi restaurant is located in avenida Pachacutec, the pedestrianized street in Aguas Calientes and is only one block away from the Urubamba river. This modern restaurant with minimalist décor is part of the luxury Inkaterra Machu Picchu hotel.Their buffet breakfast offers a great selection of cold meats, fruit, bread and fresh juices. They also offer an amazing buffet lunch with a great variety of dishes available open to the public from 12:00 to 4:00 pm and a la carte dinner from 6:00 to 10:00 pm – they offer organic salads, sandwiches, homemade soups, pastries, fish, vegetarian dishes and Peruvian favourites. It has a good quality of fresh food and great flavours.They also have a trendy bar with a great selection of cocktails.Sometimes large groups eat here so a reservation is highly recommended.Overall: Lovely location, sophisticated ambience. We recommend the lunch buffet after visiting Machu Picchu.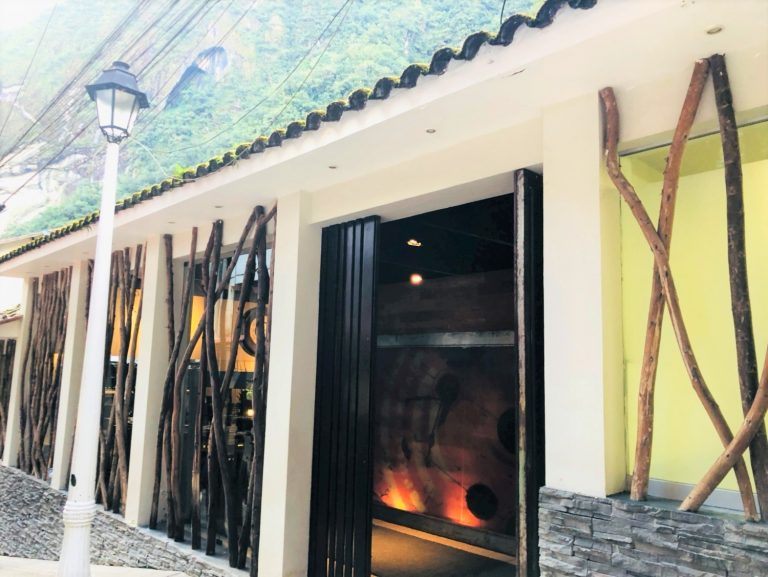 Learn more about Mapi restaurant here.
The allure of Machu Picchu and the Inca Trail bring the majority of visitors to Aguas Calientes, however all of the above are great ways to truly maximise your time in this mystical town. Every time we visit we struggle to leave, feeling there's so much more to see and do.
If you'd like us to help you with the planning of your trip to Aguas Calientes or anywhere else in Peru, please feel free to contact us at info@into-peru.com.
We create bespoke tours for individuals and groups, ranging from a day tour to a 15 day tour of Peru.
We help to take the stress and hassle out of planning your dream trip; all you need to do is turn up and explore!